FREE "CHP Start Smart" Teen Driver Education Classes!
Start Smart is a FREE two hour highly impactful interactive traffic safety class designed for drivers or soon to be drivers 15-19 years of age and their parents to discuss the serious laws, obligations, responsibilities, and family expectations that are part of driving a vehicle. This program is partially funded by a grant from State Farm Insurance.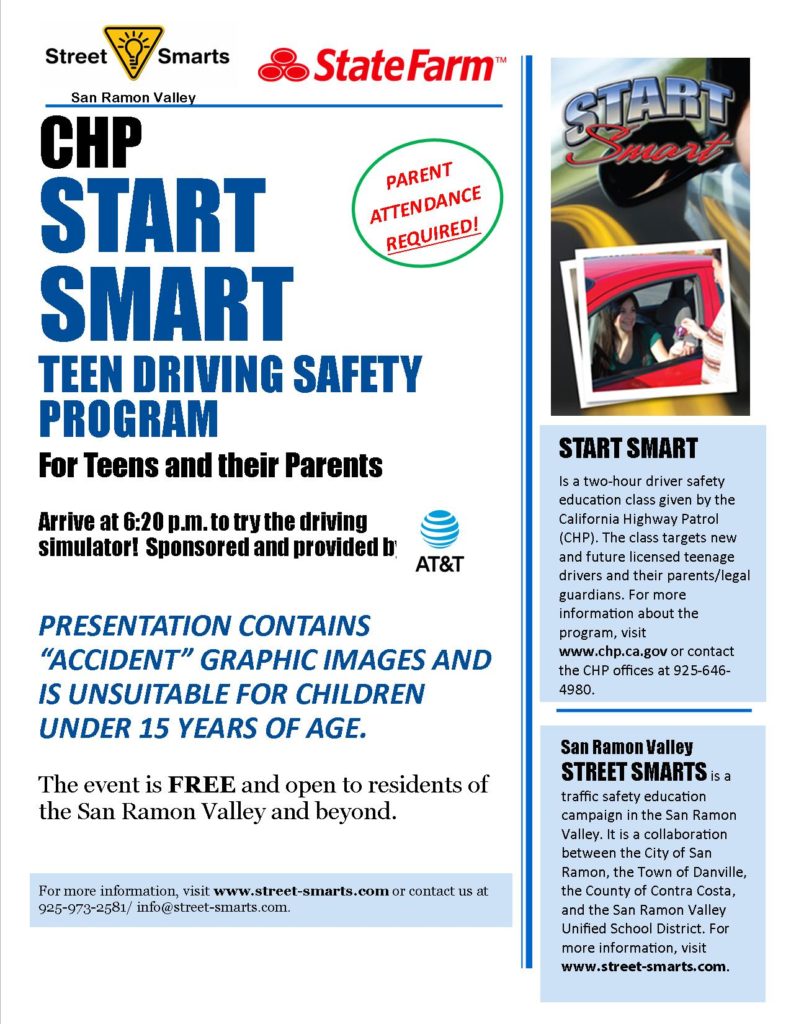 CHP Start Smart classes will continue in 2018-2019 for parking pass eligibility in the 2018-19 school year and beyond. Eleven classes will be offered for the 2018-2019 school year at all of the SRVUSD high schools. Review your schedules and sign up early to confirm your space. No additional classes will be added once the dates and locations are confirmed.
Doors open at 6:30 p.m. Check-in by 6:45 p.m. Doors close at 7 p.m. No late arrivals accepted, and your space is subject to be released to others at 7 p.m. If the class if full, you are welcome to list for "stand-by," at the venue that evening for available space. However, admission is not guaranteed.
AT&T's Texting and Driving Simulator will be available at some locations.
At least one parent must attend with their teen.
(Note: The presentation contains graphic "accident" images, which are unsuitable for children under 15 years old.)
IMPORTANT: Students must attend a class at an SRVUSD school to be eligible to apply for a student parking permit.  
Arrive at 6:30 p.m. to try AT&T's Texting and Driving Simulator
Date                    

Location  

       Capacity
Wed,
Dougherty Valley Performing Arts Center 

FULL (You are welcome to "stand-by," at the venue that evening for available space. However, admission is not guaranteed.)

        575

Wed,
Monte Vista High Theater

        315

Wed,
San Ramon Valley High Theater

        390

Wed,
California High Theater

        400

Wed,

San Ramon Valley High Theater

        390

Wed,

San Ramon Valley High Theater

        390

Wed,

Monte Vista High Theater

        315

Wed,

California High Theater

        400

Wed,

Monte Vista High Theater

        315

Wed,

Dougherty Valley Performing Arts Center 

        575