Community Bike Festival – Saturday September 10, 2022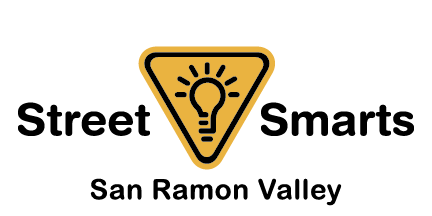 Street Smarts is excited to host the first Community Bike Rodeo and Festival!
When: Saturday, September 10, 2022, 10 a.m. – 1 p.m. (reservations required; see below for sign-up information*)
Where: Iron Horse Middle School Blacktop (12601 Alcosta Blvd, San Ramon)
Enjoy a FREE, FUN-FILLED EVENT! At this educational, skills-based training for children and families using bicycles or scooters, learn lifelong bicycle skills, and increase your family's basic bicycle knowledge in a safe, organized environment.
Featured activities include:
Check-in station: Register to receive a bicycle skills and station/elements tag
Air and maintenance station: Learn tips from professional bicycle technicians
Bicycle Helmet Fitting Station: Hands-on helmet fitting and adjusting instruction
Bicycle Skills Course: Learn real-world skills needed to maneuver bicycles on roadways and trails
Safety Bike Skills Course: for ages 6–14
Special Toddler Zone: cycling area for ages 3–5
Course/activity completion prizes at check-out: for students 14 and under
*In order for everyone to have a safe and fun time, participants and spectators (including children and parents) are limited to 100 people for each 50-minute time slot. Participants are recommended to arrive 10 minutes before the hour for check-in. All participants will have 50 minutes to enjoy the activities and complete the course.
Reservations are required for a specific time slot:
Reserve your space through Sign Up Genius.
Fill out the Google Doc at Participant Registration.
Print and fill out the Activity Release for each participant (required). EACH PARTICIPANT must have this release submitted at check-in, or participation will not be granted. Additional copies will be available at check-in.
Space is LIMITED! Please sign-up by Friday, September 2, 2022.
No skateboards at this event.
WE LOOK FORWARD TO YOU AND YOUR FAMILY ENJOYING AND LEARNING ABOUT SAFE BIKE AND SCOOTER RIDING!
If you have any questions, please email Street Smarts at dpita@sanramon.ca.gov